Welcome to Episode 52 of Light On Light Through ... "Science Fiction in the New Golden Age of Television" ... It started in the mid-late 1990s with HBO's original series, especially "The Sopranos" in 1999. This revolution in television - frank, gritty, real, intellectually sophisticated - soon spread to other cable and old-fashioned network television. In the past few years, science fiction has taken a leading role. In this podcast - based on a lecture I gave to the Philadelphia Science Fiction Society on 25 January 2008 (at the invitation of Lee Stein and Suzanne Rosin) - I look at the contributions of five science fiction series to this new golden age of television ... Lost, Terminator: The Sarah Connor Chronicles, Journeyman, Battlestar Galactica, and Heroes...

Plus flashes ... mostly about the continuing Obama revolution, and a little about John "Palpatine" McCain...

Helpful links:
home page: http://paullevinson.info
more blogs: http://InfiniteRegress.tv and http://www.myspace.com/twiceuponarhyme
videoclips: http://www.youtube.com/user/PLev20062006


my latest novel: The Plot to Save Socrates
"challenging fun" - Entertainment Weekly
"Da Vinci-esque thriller" - New York Daily News
and Brian Charles Clarke says The Plot to Save Socrates "resonates with the current political climate . . . heroine Sierra Waters is sexy as hell . . . there's a bite to Levinson's wit" -- in Curled Up With A Good Book


more about The Plot to Save Socrates...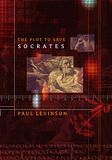 The Plot to Save Socrates