Welcome to Light On Light Through, Episode 56: 24 Season 6 Plus Redemption...a special, super-jumbo compilation episode, in which you'll hear my reviews of every episode of 24 Season 6 ... including my impersonation of Secretary Heller, somewhere in the middle of the reviews ... originally presented on my Levinson news clips podcast a few minutes after each broadcast of 24 back in 2007 ... plus a brand new review of Redemption, the two-hour 24 movie broadcast on Fox in November 2008. A great way to rev up for the return of 24, Season 7, on January 11, 2009. Hey, if you're a student, and you want to surreptitiously listen to this podcast in the back of a boring class, I won't tell anyone...

Helpful links:

5-min podcast review of just Redemption - look in right column

Levinson news clips - the original podcasts (scroll down); also - watch there for weekly podcast reviews of 24 Season 7, starting January 11, 2009
Infinite Regress - blog post reviews of all episodes of 24 Season 6, plus

Redemption

, and look there for reviews of each new episode of

24, Season 7

, within 24 minutes after the end of each episode ...
Reviews of 24, Season 7 - Hrs 1, 2 ...
Enjoy...


home page: http://paullevinson.info
more blogs: http://InfiniteRegress.tv and http://www.myspace.com/twiceuponarhyme
videoclips: http://www.youtube.com/user/PLev20062006


my latest novel: The Plot to Save Socrates
"challenging fun" - Entertainment Weekly
"Da Vinci-esque thriller" - New York Daily News
and Brian Charles Clarke says The Plot to Save Socrates "resonates with the current political climate . . . heroine Sierra Waters is sexy as hell . . . there's a bite to Levinson's wit" -- in Curled Up With A Good Book


Read the first chapter of The Plot to Save Socrates .... FREE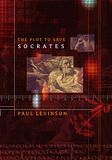 The Plot to Save Socrates