Welcome to Light On Light Through, Episode 53 LOST 4 and 8 ...a special, jumbo compilation episode, in which you'll hear all of my reviews of the first part of Season 4 of Lost ... originally presented on my Levinson news clips podcast on the Friday after each Thursday's broadcast of Lost ... 9 reviews of the first 8 episodes (because I did two reviews of the first episode, I liked it so much), plus some special new commentary, presented here for the first time, with some additional thoughts I had about Episode 8, and the coming attractions at the end ... These eight episodes have been classic ... containing one of the best time travel stories ever on television, as well as some possible answers to the key mysteries of Lost ...

Helpful links:

Enjoy...


home page: http://paullevinson.info
more blogs: http://InfiniteRegress.tv and http://www.myspace.com/twiceuponarhyme
videoclips: http://www.youtube.com/user/PLev20062006


my latest novel: The Plot to Save Socrates
"challenging fun" - Entertainment Weekly
"Da Vinci-esque thriller" - New York Daily News
and Brian Charles Clarke says The Plot to Save Socrates "resonates with the current political climate . . . heroine Sierra Waters is sexy as hell . . . there's a bite to Levinson's wit" -- in Curled Up With A Good Book


more about The Plot to Save Socrates...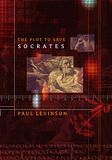 The Plot to Save Socrates