Oct 13, 2007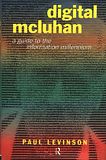 Marshall McLuhan died on the last day of 1980 - not only years before there was micro-blogging and blogging, but a few years before e-mail and commenting on Web pages.

In 1986, I wrote a piece for the IEEE Transactions of Professional Communications entitled Marshall McLuhan and Computer Conferencing, in which I said that the pithy, aphoristic bursts which characterized his writing - his great works from the 1960s consisted of chapters often not more than a page or two in length - were actually a form of web writing ("computer conferencing") decades before the Web and online communication emerged.

Just the other day, I realized something more about McLuhan's writing. The memorable titles he gave to his short chapters - for example, "The Medium is the Message" in Understanding Media (1964) or "Nobody ever made a grammatical error in a non-literate society" in the Gutenberg Galaxy (1962) (which has 107 of these gems) - were actually micro-blogs.

Blogging in his page-or-two chapters, micro-blogging in the titles or "glosses" (his term) he gave them. All of this back in 1962 and 1964.

McLuhan was in touch with a mode of expression, a vehicle of the human intellect, which was clear and percolating in his mind, even though the technology of its delivery was still decades away from invention.